For our second recipe, Madi and I found a recipe (from Pinterest, yet again) for Oreo Cupcakes!
We were a little bit daunted by this recipe, but it looked decently simple and a nice little step up from our first recipe. The recipe calls for:
1 chocolate box cake mix
1 small instant chocolate pudding
1 cup sour cream
1 cup oil
4 eggs
1/2 cup milk
1 tablespoon vanilla
1 cup mini chocolate chips
2 8oz cream cheese, softened
1 2lb bag powdered sugar
1 tablespoon vanilla
1 8oz tub cool whip
12 finely crushed Oreos
We had to go to the grocery store for this one! We popped over to our local Thrifty Foods to pick up the cake mix, instant chocolate pudding, sour cream, cool whip, and Oreos.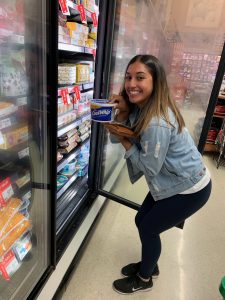 Once we had all our ingredients, we were ready to start on the cupcake portion of our cupcakes!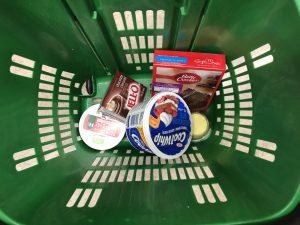 Step One: After pre-heating the oven to 350 degrees, we mixed together the chocolate cake mix, chocolate pudding, sour cream, oil, eggs, milk, and vanilla. We used the Google Home that I have set up in my kitchen to help with the conversions. Here is us mixing everything together:
Step Two: We added the chocolate chips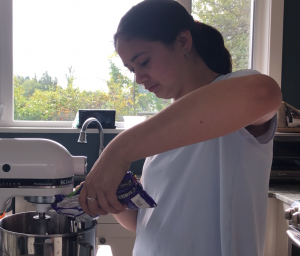 Step Three: Taste Test!
Step Four: We set up our cupcake liners into two pans, and filled them up about half-way
Step Five: We then put them into the oven and set the timer for 16 minutes. When we took them out though, they didn't quite look done. We put them back in for a few more minutes and tested them when they came out by inserting a fork into them, when none of the consistency came out with the fork, we knew they were good to go!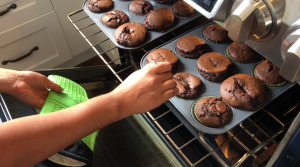 We had a bystander (my father), do a taste test, and he thought they were perfect:
We then set the cupcakes aside so they could cool off completely and got started on the icing!
Step Six:  We beat the cream cheese and vanilla together until they were smooth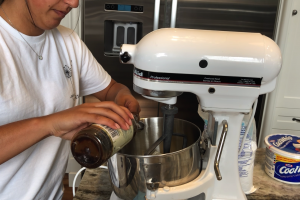 Step Seven: Then we added the powdered sugar. The recipe calls for a 2 pound bag of powdered sugar, but we thought this was an unnecessarily excessive amount, so we gradually added it and did taste tests until we thought it was sweet enough (which ended up being closer to half the amount).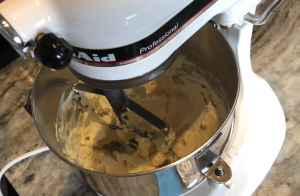 Step Eight: Next, we folded in the Cool Whip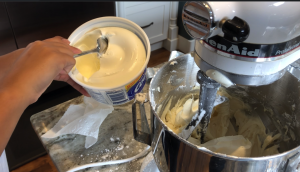 Step Nine: We then had to crush and mix in the Oreos. We put 12 Oreos into a plastic bag and Madi went to town smashing them with a ladle (maybe a little too aggressively)
Step Ten: We mixed in our crushed Oreos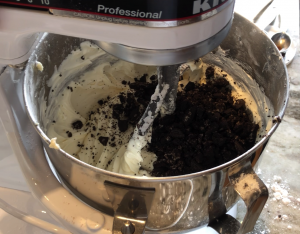 At this point we came to the realization that we didn't think the icing was as fluffy as it needed to be and decided to add a bit more Cool Whip to try and reach our desired consistency. This went super well, and our icing was ready to go!
Step Eleven: We refrigerated our icing for about an hour (at this point, our cupcakes had completely cooled). Madi moved the icing over into our "piping bag" and I started cutting the remaining Oreos in half to use as a garnish
Step Twelve: Icing our cupcakes! It took a bit, but we finally started to get our technique down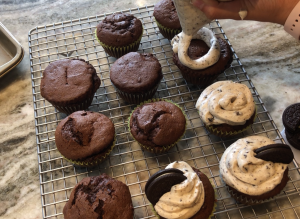 Iced and garnished, here is the final product!
Reflection and Feedback:
We brought them to school the next day, and everyone in our cohort absolutely loved them! The cupcakes had a really nice consistency and were super moist (Madi and I contribute this to the pudding we think). Beyond being really visually satisfying, they were delicious! We're glad we cut down on the powdered sugar as everyone agreed that it was the perfect level of sweetness. Overall, we were able to make more adjustments to this recipe than the last, and I think we truly are growing as bakers! Cookies and cupcakes are down… we will have to try a different form of baked good next!
Cheers!
-Jess