Hello!
My name is Jess and I am a second year student in the Bachelor of Elementary Education program at the University of Victoria. This is my blog for documenting my coming years of teaching and learning!
I have wanted to go into the career of teaching for a long time, a verryyyyyyy long time as you can see…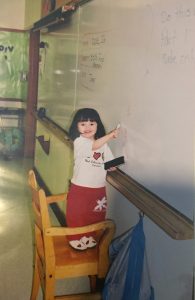 Just kidding haha, this is me in my mom's classroom many moons ago.
In actuality, I have always loved working with children (even when I was one myself) and took on many mentorship opportunities on a volunteer basis that led me towards the career of education.
One part of my past is that I competed on a precision jump rope team for just shy of a decade! There were many mentorship opportunities working with kids throughout this sport and I found these interactions very rewarding. Although I no longer compete myself, I now help coach the recreational team!
I also rock climb! I experienced this sport for the first time when I started high school, and through getting my instructor certification I have had experience coaching, belaying for, and instructing classes of a very diverse variety of ages. I continue to climb with friends for fun!
I love reading and writing and have always had a passion for languages. Throughout the past several years, I have dedicated time to participating in reading programs and volunteering in different elementary classrooms. I graduated from the Saanich French Immersion program and am considering going into French Immersion teaching as well!
Another few things about me: I love turtles, the colour yellow, pasta, my two pet dogs, travelling, and spending time with family and friends on our beautiful island!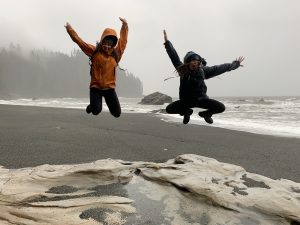 Thanks for visiting my blog! I look forward to sharing my coming adventures with you all 🙂
-Jess