Welcome to Week #3!
Madi and I decided to challenge ourselves even further this week by tackling this recipe we found (on Pinterest, surprise surprise) for these beautiful lemon lavender squares. We really wanted to push our boundaries by trying out something other than just cookies and cupcakes.
The recipe calls for:
For the shortbread crust:
Vegetable oil cooking spray, as needed
½ cup granulated sugar
¼ teaspoon table salt
1 cup all-purpose flour
8 tablespoons unsalted butter, melted
For the lemon custard:
4 eggs
1 cup granulated sugar
2/3 cup freshly squeezed lemon juice (from about 6 lemons)
¼ cup all-purpose flour
½ teaspoon baking powder
½ teaspoon table salt
Confectionary sugar, as needed, for dusting
1 teaspoon crushed dried lavender
Lemon slices, cut into quarters
So we popped over to the grocery store to pick up some ingredients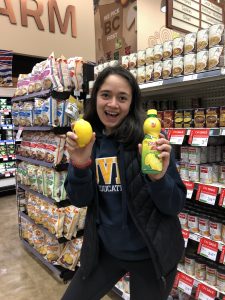 We then popped over to Madi's house to pick some lavender!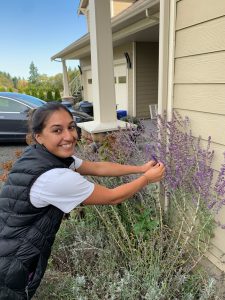 Step One: We started with the shortbread by pre-heating the even to 350 degrees, and spraying our pan with vegetable oil cooking spray so it won't stick.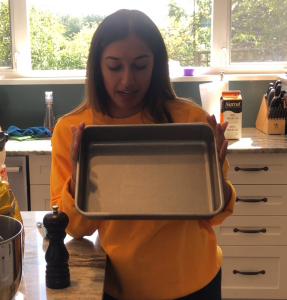 Step Two: We mixed together the sugar, salt, and flour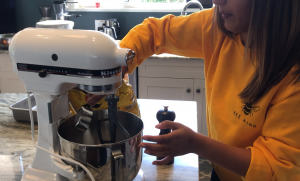 Step Three: We then added the butter and mixed these all together until large crumbs started to form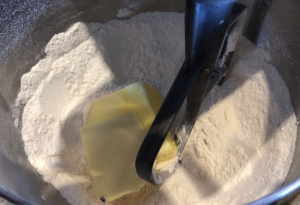 Step Three: We evenly pressed the crust into the baking pan and put it into the oven, setting a timer for 25 minutes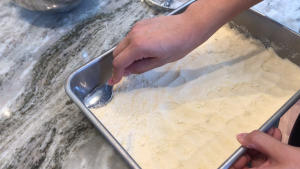 Step Four: Time to start on the lemon custard! We started out by changing the attachment on our Cusisinart mixer from the beater to the whisk attachment, and beating the eggs until they were "thick but not frothy"
Step Five: Our crust was now done in the oven! Madi and I thought it was a bit underdone though, as it wasn't very browned at all. So we put it back in for a few minutes and then took it out when it had browned more. We were still a bit worried about it as it was a really pale colour, but we hoped it would be okay since it would be going back in the oven for another 20 minutes.
Step Six: We then beat in the sugar, lemon juice, baking powder, and salt.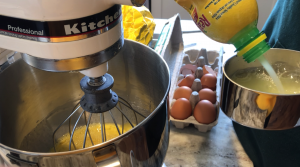 Step Seven: It was now time to combine the two! We poured the custard over the crust evenly, and put it into the oven, which we adjusted to be 325 degrees
Step Eight: This is what our bars looked like fresh out of the oven! We were checking on it while in the oven and we were a bit concerned that it wasn't actually solidifying. After being in there for 20 minutes though, they were definitely a solid custard, and we stuck a fork in to make sure it was completely done.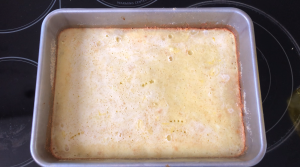 Step Nine: After letting it cool, we sifted some powdered sugar onto it and sprinkled lavender on top. We then cut them into squares and garnished each square with a lemon slice.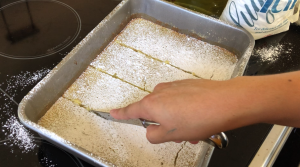 As we were slicing the bars, we discovered that the crust and custard was not sticking together very well, and we were worried that maybe we overcooked the crust by putting it back in the oven, resulting in them not adhering to each other. However, as we continued to cut the bars we realized that this was something that only happened to the first few, I believe just because the first are the hardest ones to remove from the pan. Phew!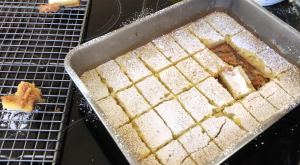 Anddddd….. The finished product!!!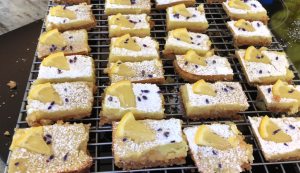 Reflection and Feedback: Everyone really loved the bars, Madi and I's family members were all in agreement that these were the best baking recipe we have made thus far for this project. Feedback we got from our classmates was that they looked really fancy, that the lavender provided a really nice subtle taste and everyone appreciated the lemon garnish. Madi and I both think we could have definitely had the crust in the oven for a shorter amount of time, but overall I think we were both surprised that this recipe even worked at all! Custards and bars are definitely a new thing for both of us, and we are both very impressed that we were able to successfully tackle this form of baking – who knows what we'll be able to bake next?!
One thing that Madi and I have decided to explore is dairy-free, gluten-free, nut-free, and vegan recipes. Not only going off of pre-existing recipes that are accessible for those with dietary restrictions but also how we can adapt recipes to meet the needs of our friends, family, and classmates. We are hoping to look into these more for our next few recipes!
Cheers!
-Jess