Hello everyone and happy Halloweek!
Madi and I thought it would be a disgrace to bake anything other than a halloween-themed baked good this week, so we found this adorable recipe on Pinterest for Chocolate Monster Cookies!
We also really wanted to be able to execute a recipe that was dairy and/or gluten free as there are some members of our cohort with intolerances.
The recipes called for:
1-3/4 cups all-purpose flour
2/3 cup cocoa powder
1 teaspoon Argo® Baking Powder
1/2 teaspoon salt
1-1/4 cups brown sugar
1/2 cup butter, softened
2 eggs
1/3 cup Karo® Dark Corn Syrup
1 teaspoon Spice Islands® Pure Vanilla Extract
1 cup semi-sweet chocolate chips
1-1/2 cups candy-coated chocolate OR peanut butter pieces
48 candy eyeballs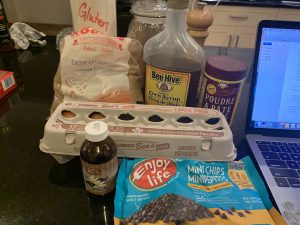 Once we had all of our ingredients assembled, we heated our oven to 350 degrees, we added our cocoa powder and flour to our mixing bowl. The recipe called for all-purpose flour, but we substituted this for gluten-free flour.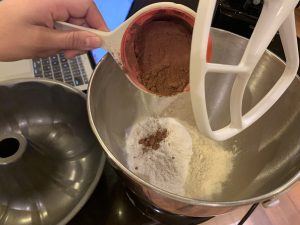 Then we added the baking soda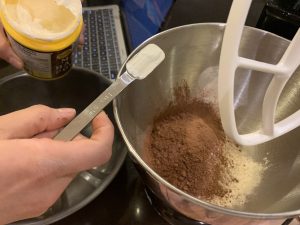 And the salt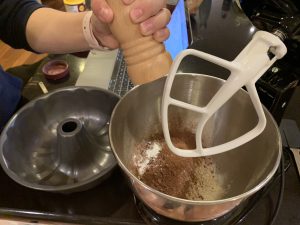 We mixed all of our dry ingredients together, and set them aside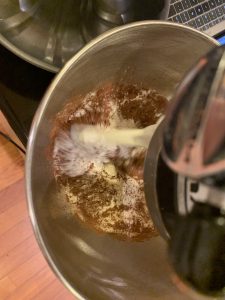 Then, we beat together the brown sugar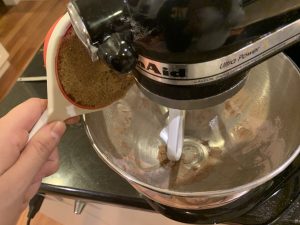 We then added butter and the eggs
We added in the corn syrup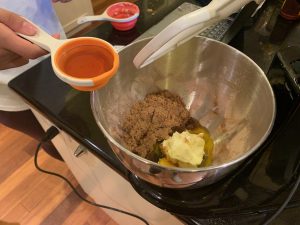 And the vanilla extract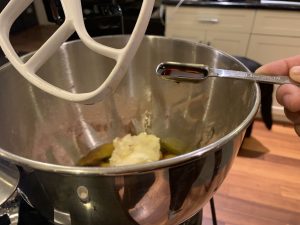 We mixed all of this together, and started to gradually add in our dry ingredients
We then added our dairy-free (and gluten-free) chocolate chips
And added our Reese's Pieces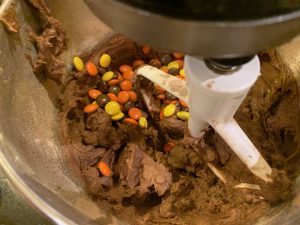 It was now time to put them in the oven. We were a bit concerned about the consistency as they were pretty runny and woule be difficult to roll between our hands – we concluded this was due to the alterations we made to the recipe. Luckily, we were able to just take a spoon and scoop small balls of the dough onto our baking pan, lined with parchment paper.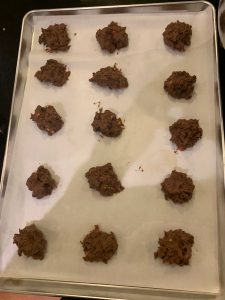 After about 14-15 minutes in the oven, these boys were perfectly cooked and came out looking (and smelling) great. While they were still warm and malleable, I gently pressed some additional Reese's Pieces into the tops of the cookies for aesthetic purposes, and the others were fully hidden.
As for adding the eyeballs, we weren't able to find any candy eyeballs in the store, but luckily we came up with a good plan for recreating the eyes and faces. We used white chocolate candy melts as the eyeballs, and the dairy-free chocolate chips (which were mini size) as the pupils of the eyes.
We also left a few without eyes that were designated as the official dairy-free AND gluten-free cookies
And…. the finished product!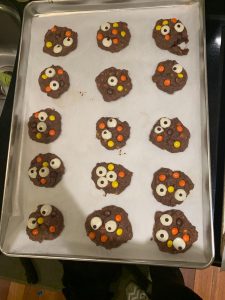 Feedback: Madi and I were a bit worried that the gluten-free flour had made the cookies too grainy. One classmate agreed that she felt a bit parched by eating it, but another said that she didn't find this to be true at all. One student said these were the best gluten-free cookies they had ever had! Madi and I aren't huge chocolate fans either, but we definitely enjoyed them and I think we're really glad that our adaptations to the recipe turned out well. I am also really proud of how we have grown with our baking skills to the point where we can improvise to achieve the desired effect. These cookies aren't just delicious and seasonal, they are adorable!
Cheers! (from Me, Madi, and Madi's dog)
-Jess