Welcome back!
For this week's recipe, Madi and I decided to try and do a themed baked good in line with the fall season. We found this recipe for pumpkin cake pops on Pinterest which was a bit intimidating to us, but we loved how cute they were and figured we would give it a go! 
We started with the cake portion of the recipe, which called for:
1 box Pillsbury Traditional Vanilla cake mix
1 Tbs pumpkin pie spice
1 tsp cinnamon
15 oz pumpkin puree
3 eggs
1/2 cup applesauce
1/3 cup milk
2 tsp vanilla extract
We popped over to the grocery store to get our cake mix and pumpkin puree, and we were ready to go!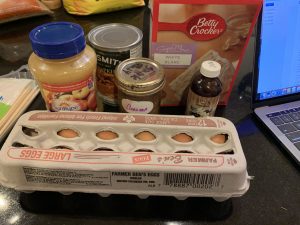 After preheating the oven to 350 degrees, we greased a 9 x 13 baking dish and started to combine our ingredients.
We started with cracking 3 eggs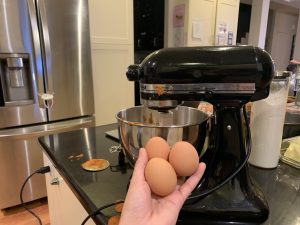 We then added one 1/2 cup of applesauce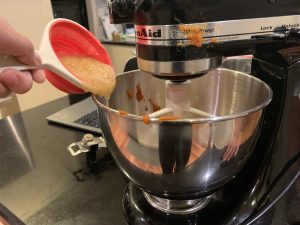 And a full bag of vanilla cake mix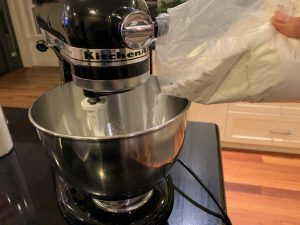 Then we added 1 tsp of cinnamon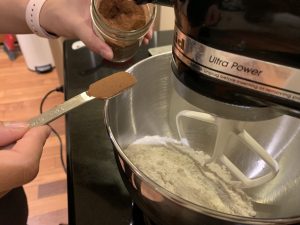 And a 1/3 cup of milk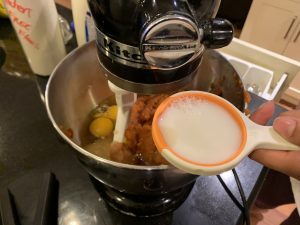 Then we opened up our can of pumpkin puree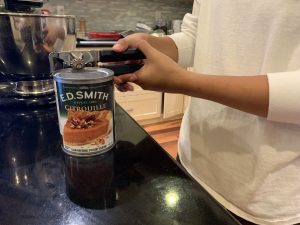 And added almost the entire can (15 oz)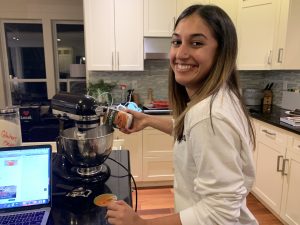 Then we added 2 tsp of vanilla extract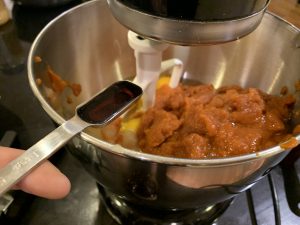 With all our ingredients in the mixer, we were ready to blend it all together!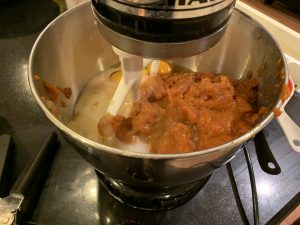 We mixed everything together at medium speed for approximately 2 minutes
The recipe also called for 1 Tbs of "pumpkin pie spice" but we couldn't find anything that would work for this at the grocery store so we went without, hoping it wouldn't make a huge difference. A quick taste test revealed that luckily, it tasted great even without this ingredient!
We then poured the batter into our gresed pan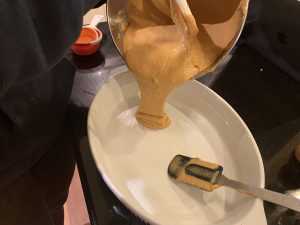 And put it into the oven for approximately half an hour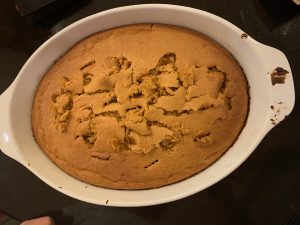 Once we let the cake cool off completely, we crumbled it into a large mixing bowl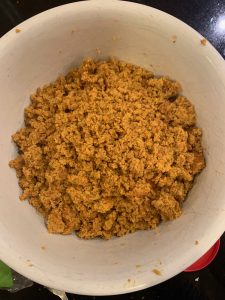 And stirred in 1/3 a cup of vanilla frosting
We then rolled the cake into balls to form the pops, and placed them into a container
We placed the container with the pops into the freezer for about half an hour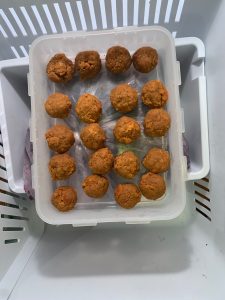 While we waited for these to freeze, we prepped out ingredients for the icing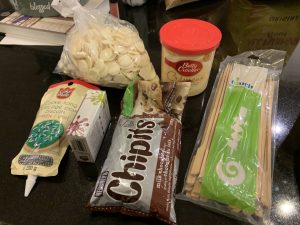 Instead of using lollipop sticks, we had to improvise so we took barbecue skewers and cut them in half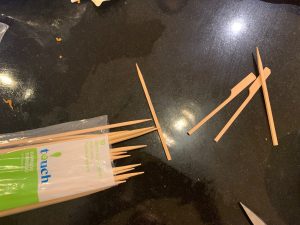 We placed about 1/4 a cup of chocolate chips into the microwave, heating in 30 second intervals and stirring in between until they were fully melted. We then took the pops out of the freezer to stab them onto the sticks. We dipped the end of each stick into the melted chocolate so that it was decently coated, and then stabbed that end into the cake pop, about 3 quarters of the way through so that it wouldn't fall off.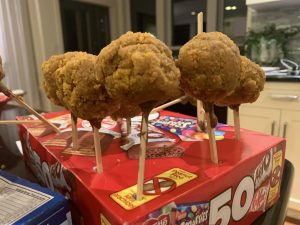 We were ready to start melting the chocolate to coat the cake pops. I put our white chocolate candies into the microwave in 30 secon intervals, pausing to stir it, until it was fully melted. We then started combining food colouring to create the desired orange colour.
For some reason though, it started to solidify! I put it back into the microwave to try and melt it down thinking that maybe it had cooled off too much while we were stirring in the colouring, but this only ended up making the chocolate solidify more, and it came out burnt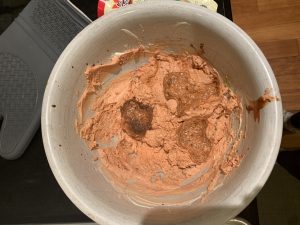 Luckily we still had half a bag. This time, we added the food colouring first on top of the chocolate candies, and then put it all in the microwave together to melt. When I took it out after 30 seconds, it had already solidified!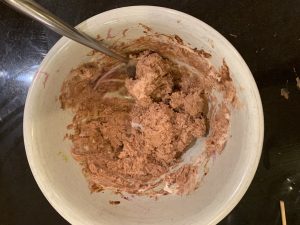 Madi and I came to the conclusion that it was probably something in the chemical makeup of the food colouring and the chocolate that didn't mix. Without any chocolate left though, we were in a bit of a pickle. Luckily, we still had almost a full tub of icing! We added out food colouring to this, and it turned out a really lovely bright orange colour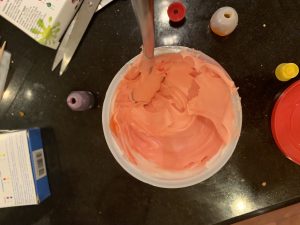 We started frosting the pops with the icing
We then used our green icing to create the stems and leaves design at the tops of the cake pops, and we used some of the leftover melted chocolate chips to design some faces on a few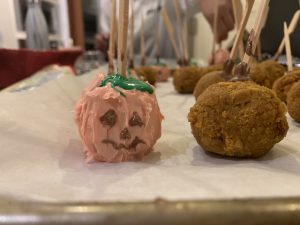 They definitely would have looked a lot better and smoother if we had been able to use melted chocolate like the recipe suggested, but we had to work with what we had. And at the end of the day – they were still pretty cute! (Even if they were a bit messy)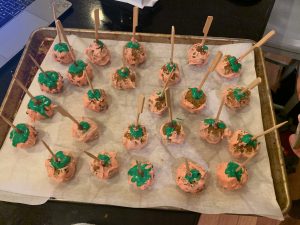 Feedback from our cohort: No one cared at all how they looked haha, because they tasted great! Everyone thought they were super delicious and cute. The cake pops could have been a bit more pumpkin spice-y, and if we ever recreate the recipe we will have to be more prepared with some "pumpkin spice" on hand (and some already orange chocolate candies to melt!) Overall, these were probably the most time-consuming and high-maintenance recipe we have done so far, and I don't know if we'll be tackling more cake pops anytime soon. But they were tasty and very on-brand for October!
Cheers!
-Jess